Market scan is an invaluable tool from which much information can be taken to identify where the action is occurring in the stock market.

The Market Scan page is divided into section for ease of use. These sections are explained below.


Market Status


This shows an overview of how many shares are rising, falling or remain unchanged. This is shown in a box at the top of the Market Scan page.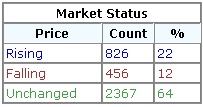 As you can see in this example 826 (22%) of shares have seen a rise in price on this day.

456 (12%) are falling and 2367 (64%) remain unchanged.


Gainers and Losers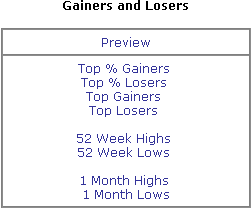 This area of the Market Scan page has several different section as shown above. By clicking on the title you want you will receive specific information on that area. For example if you click on Top % Gainers you will receive a display of just that. Below is an abbreviated version of this.



Trade Analysis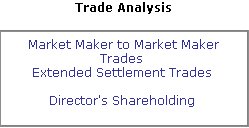 Trade analysis allows you to access specific information on Market Maker to Market Maker Trades, Extended Settlement trades and Director's Dealings, by clicking on the relevant headings.


Bid/Offer Spreads


Again by selecting one of the areas will get information of Widest % Spreads or Narrowest % Spreads.

Below is an abbreviated example of the Widest % Spreads Screen.



Volume Analysis



Choose to view either volume leaders or price x volume leaders. Volume leaders shows a list of company's listed in order of those who have had the largest amount of stock dealt in the abbreviated table below VOD are the Volume Leaders due to the fact that there has been stock movements totaling 185,775,612.



The price x volume leaders shows a table of company's where the current price has been multiplied by the current volume of shares traded. Below is an abbreviated example of such a table.



As you can see from this example VOD Is at the top. This is due to the fact that it's price is higher, giving a higher Price x Vol total.


Constant Gainers/Losers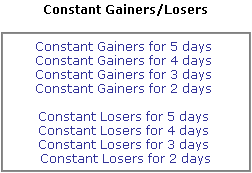 By clicking on any of the links shown in this box you will be presented with a list of the corresponding shares. In the example below by selecting Constant Losers for 5 days we can see that SBRY has dropped 15.337% in the last 5 days.



This is an invaluable tool to show you what the trends have been on certain stocks.


Fundamentals Analysis



This box shows Market capitalization and Market Cap/Turnover